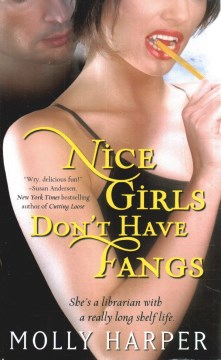 Nice Girls Don't Have Fangs
Molly Harper
Jane Jameson Series #1
Nice Girls Don't Have Fangs
by Molly Harper follows Jane Jameson, a former children's librarian turned vampire. Jane uses her severance coupon to drown her sorrows at the local watering hole. However, getting fired was only the beginning as she find her self getting shot by a drunk drive by hunter and waking up a few days later to find she has been turned into a vampire. Now she just has to adjust to her new life and discover who seems to have it in for her.
This is a great book for people who want vampires but also want something funny as well. Also, it is nice to see that the main character is a librarian and not a waitress or teenager. I do wish she had a bit more of a backbone but maybe that will come in the sequels. I must say that I enjoyed
Nice Girls Don't Have Fangs
and can't wait to read the rest of the series.